Experienced Flooring Contractors Serving Charlotte, NC
Charlotte's Hardwood Experts!
Nothing beats the timeless elegance of hardwood floors. They create a high-end look that works perfectly with any style or décor. Gil Flooring Solutions offers the Charlotte area a wide variety of custom hardwood floor installation & repair options to create a stunning new hardwood floor to enhance your home.
Below we set out all the main types of hardwood flooring available and provide pros and cons of each as well as approximate costs.
When you want a truly exceptional floor, Ash hardwood flooring delivers versatility, flair and durability. Prized for its large swirling grain patterns and rich color variations that run from blonde to gold to rich nutty brown hues, Ash floors can also be easily stained to a wide variety of colors, thanks to its lack of tannins. With more neutral and natural hues, Ash hardwood flooring makes it easy to achieve specific color tones as you design the perfect surface for your Charlotte area home or business. And with unique elasticity and amazing durability, ash wood flooring can be counted on stay strong and resilient for years to come
Cost: Ash is an affordable type of hardwood flooring.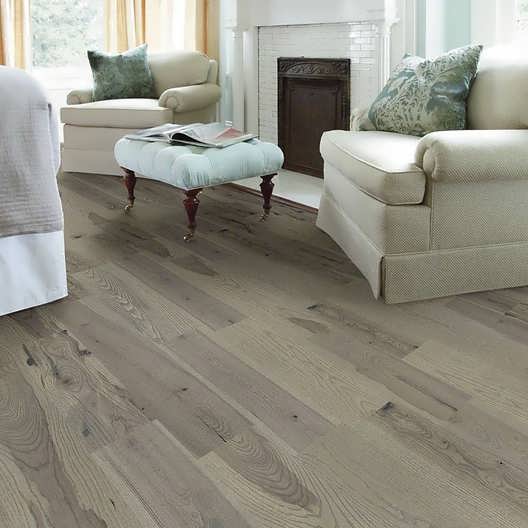 Pros:
Ash hardwood flooring has a medium hardness. It's hard enough to stand up to heavy traffic but soft enough that it's comfortable to stand on barefoot.
Thanks to its average hardness, ash is also a great choice for stylish hand-scraped floors. It's also notable for how well it takes a variety of stains.
Cons:
The downside to ash hardwood is the maintenance it requires. Because of its light colors, it gets dirty easily. You'll need to clean it more frequently than other species. And for such frequent cleaning stick vacuums are a perfect solution.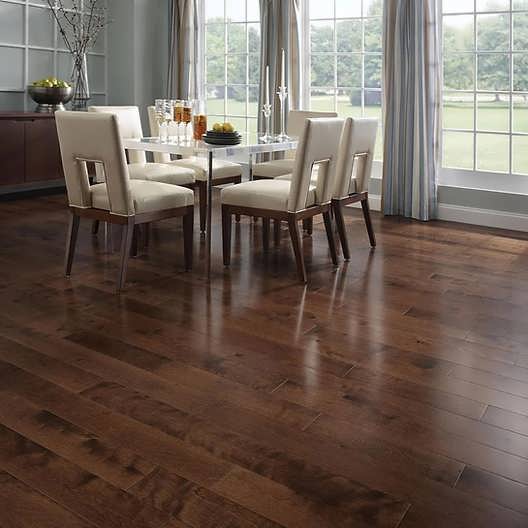 Renowned for its intriguing combination of color tones and varying grain patterns, ranging from subtle swirls to flame-like effects that seem to dance across the board, Birch makes a uniquely captivating floor.
Birch flooring is known for its warm hues – from pale yellow to light red with brown tones – and for its grain patterns that can range from subtle swirls to flame-like effects. Birch flooring can be stained in a wide variety of colors.
Cost: The species is so abundant that birch is an affordable type of hardwood. It's a good in-between regarding functionality/style and price.
Pros:
Birch hardwood flooring has clear, attractive wood grains. Coupled with its creamy white to yellowish-white color, it looks great in just about any home.
Birch holds stains very well. It's easy to stain it with a variety of colors for a more individualized look.
Cons:
The downside to birch is that it's a very soft wood. It's highly susceptible to both dents and scratches.
Birch is also relatively unstable. It expands and contracts as temperature and humidity levels change. It's best to only use it as hardwood flooring in areas with minimal moisture.
Hickory Hardwood Flooring
Installing hickory flooring in your Charlotte home is like receiving a two-for-one deal. You'll get a dramatic hardwood floor with a built-in insurance policy at no extra cost. That's because hickory's color variations and striking grain pattern are part and parcel of the hardest, most durable domestically harvested plank flooring available.
Hickory is ideal for everything from modern California bungalows to rustic lake-side retreats.
Hickory is usually a medium tan to light red-brown color. It's also less commonly available in a creamy white color. No matter the color, hickory usually has dramatic grain patterns.
Cost: Hickory is a slightly above average priced type of hardwood flooring.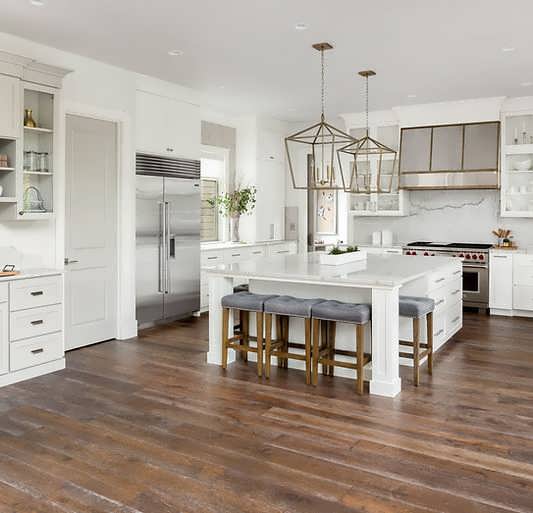 Pros:
Naturally, hickory hardwood flooring is notable for its extreme durability. It can last a lifetime, with minimal wear and tear, if properly maintained.
Cons:
The biggest downside to hickory hardwood flooring is also its biggest benefit: its hardness. The hardness makes cutting the wood difficult, leading to higher installation costs.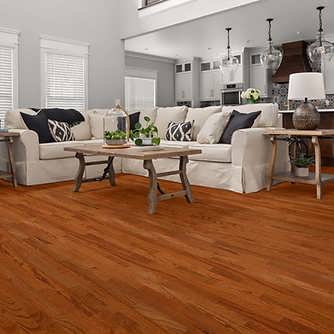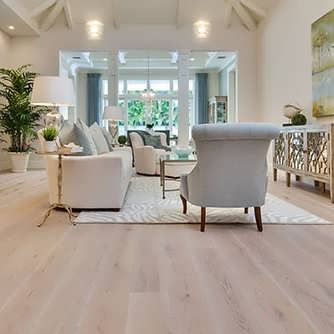 As a popular species for hardwood flooring, oak is loved for its classic good looks and old-fashioned warmth.
Oak hardwood flooring is a great choice in traditional-style homes. It blends well with a wide range of furniture and décor.
Two main varieties of oak hardwood flooring are available: red oak and white oak. The main difference between the two is color. Red oak is much lighter. The neutral color features a reddish hue. White oak is a pale brown. It often has a pink or gray hue throughout.
Cost: Oak is a mid-priced type of hardwood flooring.
Pros:
Due to its harder grain, it stains evenly and with ease. This ability means there are numerous color options for the homeowner to choose from that aren't available with other types of hardwood.
Cons:
Both types of oak feature a mid-range hardness rating. Despite being able to stand up to heavy impacts, oak is prone to scraping. Use furniture pads on all heavy furniture to prevent damage.
With hard flowing grain, neutral colors and remarkable density, Maple hardwood flooring is a popular choice for flooring surfaces for traditional and contemporary settings alike. The cleaner and lighter hues of this hardwood will appeal to homeowners seeking to a more neutral floor to enhance other aspects of their interior design.
Since it is a fast-growing domestic wood, maple is considered to be sustainable and eco-friendly.
Cost: Maple is an affordable type of hardwood flooring.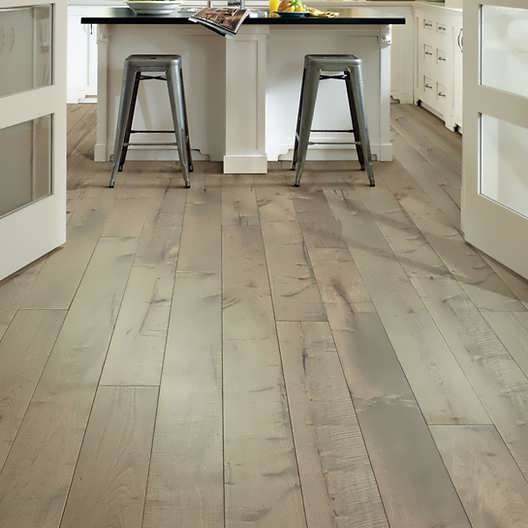 Pros:
Maple has a fine grain that gives each plank a fairly uniform look; maple floors therefore offer a clean backdrop that will work for most interior designs. This makes it a good option if you like to change your décor often; or as an investment to appeal to a wide audience.
Maple is relatively high on the hardness scale, making it less prone to denting and more durable.
Maple is widely available and very affordable; different grades and types of maple are available to suit most budgets.
Cons:
Maple does scratch easily – but you can minimize this with a good protective sealant, and the addition of strategically placed areas rugs.
Maple flooring will turn a deeper shade over time, and if it is finished with oil-based polyurethane then it can react badly to direct sunlight and yellow.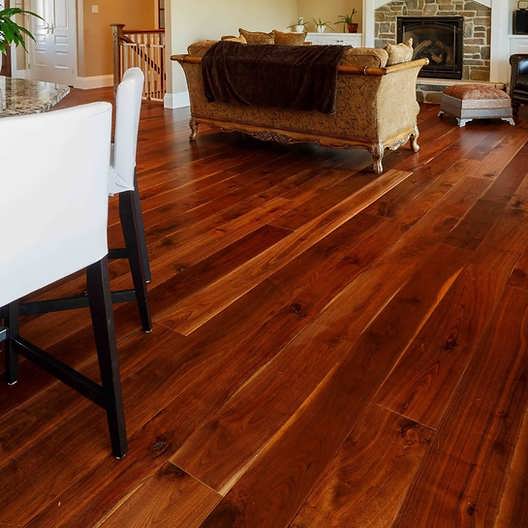 When choosing hardwood flooring, many homeowners pick walnut for its beauty and unique appearance. This makes walnut a popular choice for not just flooring, but also for fine furnishings throughout the world. Even though walnut's initial surface appears dull, as it ages it develops a lustrous patina that makes it even more desirable.
It becomes a real statement in a room and is something that people will gravitate towards when they enter your home.
Cost: Walnut is one of the most expensive types of hardwood flooring.
Pros:
Walnut does, however, have a high resistance to light damage. Its stellar photosensitivity makes it a good choice in rooms with year-round direct sunlight.
Another benefit of walnut hardwood flooring is its light weight. It can be used on upper stories without a problem.
Cons:
Walnut flooring demands that you treat it with the utmost care. If it is not treated correctly then it is easy for scuffs and scratches to appear.
The everyday dust and debris of living in a home appear much easier than those wood floorings that are lighter in colour and tone.
Pine wood has been used for flooring purposes for over 200 years. Technically, pine is not considered a hardwood, but the durability of this wood has been proven time and again in both the construction and flooring industries, and some varieties approach the hardness levels of the softer hardwoods. And since pine is abundant in the United States, it makes a sound, economical option for Charlotte homeowners looking for a beautiful new wood floor!
While there are several different varieties of pine trees out there, two of them are primarily used for flooring purposes. These are the Southern Yellow Pine and the Heart Pine.
Cost: Pine is one of the most affordable types of hardwood flooring.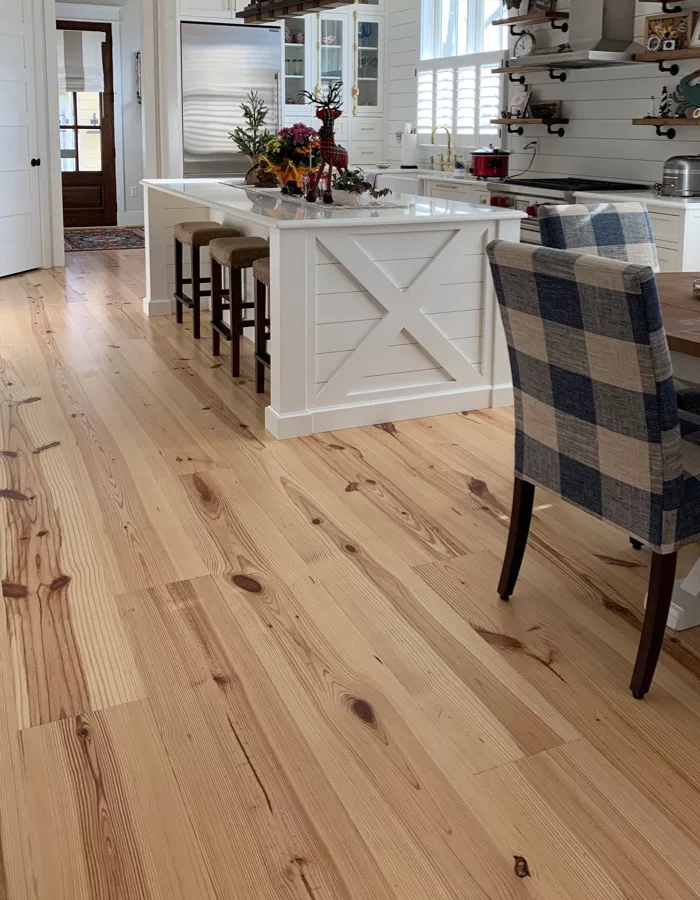 Pros:
What's most remarkable about pine floors is how long they can survive. As is the case with other wood surfaces, a properly maintained solid pine floor can last for generations.
Pine is often thought of as one of the most beautiful types of wood flooring.
Pine is a plentiful, comparatively sustainable wood. It's hardy, it's resilient, and it grows very quickly.
Cons:
Pine is certainly among the nicest wood flooring types, but it isn't hardwood. It's a softwood, which means that it's susceptible to dents, scratches, and divots from heavy use by people and pets.
​
Pine flooring will need to be maintained. Every few years, you'll want to strip the finish, sand out any blemishes, and apply a new finish coat.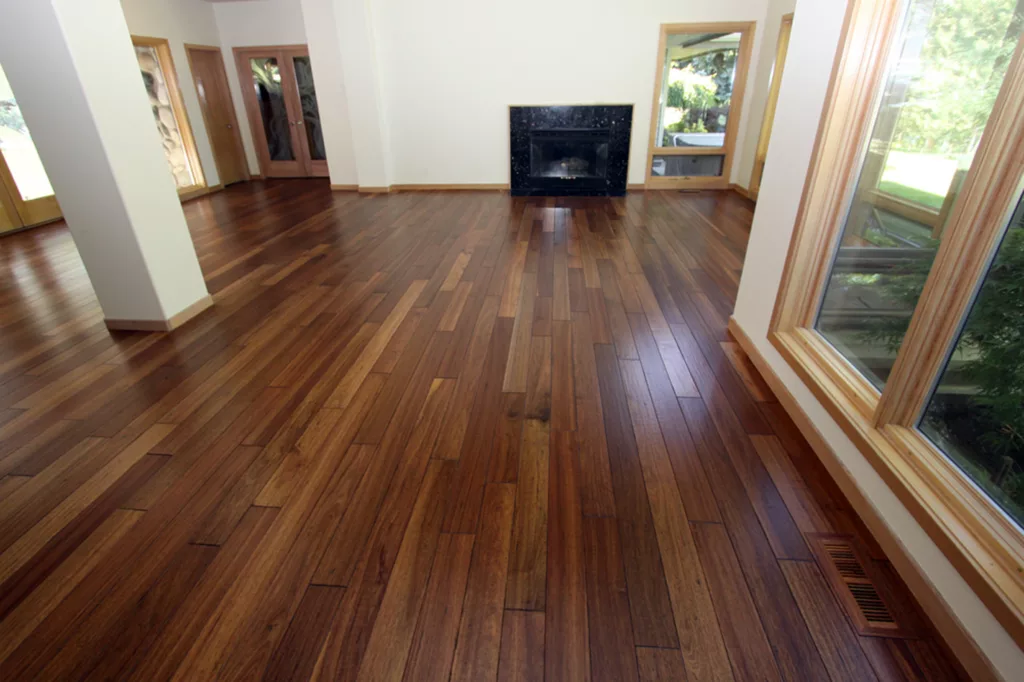 Mahogany Hardwood Flooring
Mahogany is a top choice among many homeowners. It's known for its hardness and durability as well as its deep, rustic, and warm aesthetics. Not only can you use it as a solid choice for your hardwood flooring, but it can also beautify your doors, cabinets, and furniture overall.
The top reason that homeowners pick the hardwood flooring that they do is because of aesthetics. A house will feel like a home when you choose stylish flooring. Because of its natural elements, it blends seamlessly into the decor of any home. Its textured and visually appealing patterns are suited for any home flooring.
Cost: While expensive, it's durable and hard.
Pros:
Mahogany is harder than other woods like oak, pine, etc. In fact, it is 70% more stable and harder than other varieties of woods. Its properties of hardness and durability having no grooves or pockets make it water-resistant and scratch-free too.
The biggest advantage of mahogany hardwood floors is its appearance. It matches any type of furniture or any décor of the room. It's textured and beautiful patterns for flooring make it the most appropriate choice for many hardwood flooring experts.
Cons:
As it is very hard as compared to others, it is difficult to cut, give different shapes, and also have a tiring installation process.
As mahogany hardwood floors absorb sunlight, the color of the wood becomes darker over time.
Whenever you need help with hardwood floor installation, Gil Flooring Solutions has your back. We can help to beautify your home or enhance any commercial buildings. No job is too big or small for us and we strive for excellence. Call us at (704) 245-9110 with any questions and speak to one of our licensed professionals. To see examples of our work or to gain inspiration for your next project, follow us on Facebook and Instagram.
Contact Us for More Options!